When adding a storage ottoman to your living space, you get a seat, a footrest, and a coffee table or side table all in one, with easily accessible storage for everything from blankets to remote controls to the clutter you don't want guests to see. Take a look at some of the many ways you can use storage ottomans in your own home.
---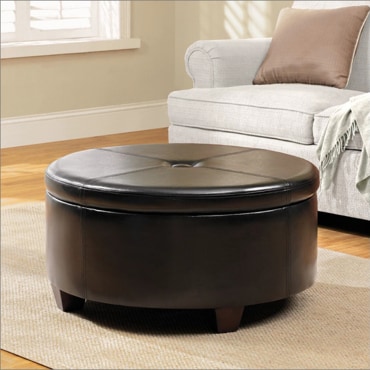 Use a Storage Ottoman as a Footrest or Extra Seat
The primary purpose of an ottoman is as a footrest. After a long day, kick your feet up to watch TV or read a good book, and relax on your ottoman footrest. Ottomans are also superb choices when you need some extra seating for entertaining. Cushioned ottomans are comfortable to sit on and strong enough to handle the weight. Some storage ottomans even have casters on the bottom so you can roll them right where you want them to be. Some storage footstools are even big enough for more than one person to sit, which is handy when you have friends over to binge-watch your favorite TV show.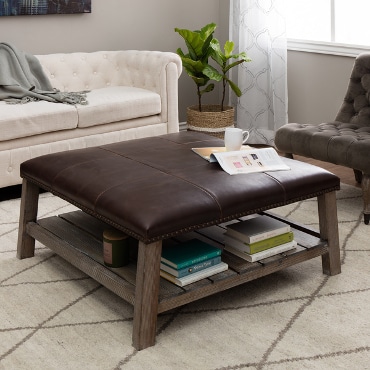 Use a Storage Ottoman as a Table
If you choose a storage ottoman that's a little lower than your sofa, you can use it as an ottoman coffee table combo. Pick up a couple of attractive metal or wooden trays to set on your ottoman to keep drinks stable, and use it as you would use any coffee table, placing your books, magazines, and remote controls within easy reach.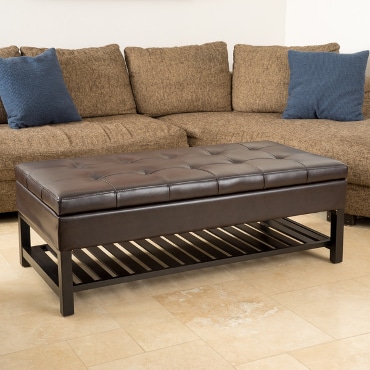 How to Pair a Storage Ottoman with Your Existing Furniture
Take a good look at your living room furniture before adding one or more storage ottomans to the mix. Most people choose ottomans that match the overall style of the room. For example, if you have a modern or contemporary living room, you might want to go for a sleek, leather ottoman. If your style is more traditional, a tufted storage ottoman might be just the thing. Consider whether you want to match fabrics or use your ottomans as accent pieces that attract attention or function as works of art. If your color scheme is basically monochromatic, consider a splash of bold color in your ottoman, or opt for an eye-catching print.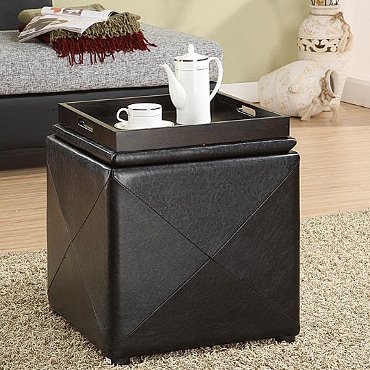 What to Store in a Storage Ottoman
A storage ottoman is one of the handiest pieces of furniture you can have in your home. Stash all your video game controllers and remote controls inside, or keep some extra throws close at hand to wrap up in when the temperature turns chilly. A storage cube can provide enough space to store DVDs or the extra linens for making up your sofa bed. If you have multiple storage ottomans, leave one empty for sweeping in all the built-up clutter of magazines, books, and unopened mail, whenever unexpected visitors show up.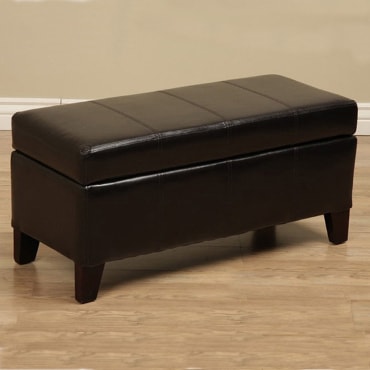 Storage Ottomans in Your Bedroom
A storage ottoman can be an incredibly functional and attractive piece of furniture in your bedroom. Place a storage bench ottoman at the foot of your bed to provide a place to sit down and put on your shoes. Ottomans placed here are ideal for stashing those decorative pillows that you use only once in a while or to store extra blankets and pillows. A storage ottoman in a child's room makes a terrific toy box and also provides a spot to perch when it's time to read a bedtime story.
Storage Ottomans in Your Dorm Room
In the confined spaces of a college dorm room, a storage ottoman is incredibly useful. A colorful or bohemian ottoman can breathe a sense of style into an institutional space, and a storage ottoman is handy for storing everything from shoes to cold weather clothes that are too bulky for the limited closet space.